This Section provides technical information on how to design applications using Across Communications framework.
Across Communications framework could be integrated with your applications using several different approaches, depending on technology you currently use or trying to integrate Across Communications with:
If you are writing your application using .NET Framework, Java with SOAP toolkit, or any other tools/platform that supports Web Services (SOAP/HTTP) protocol, you do not need any other components and can proceed to Using SOAP section.
If your current application written on Win32 platform, using tools such as Visual Basic, C++, Delphi and etc., that supports COM automation, you can download our COM object library. It will provide you with abstraction layer, between our service and COM interfaces. Using this library you would not have to write any protocol dependant code and could use functions provided in COM library.
If you are using Java, you can download our Java library that is designed to provide tight integration between our service and your application.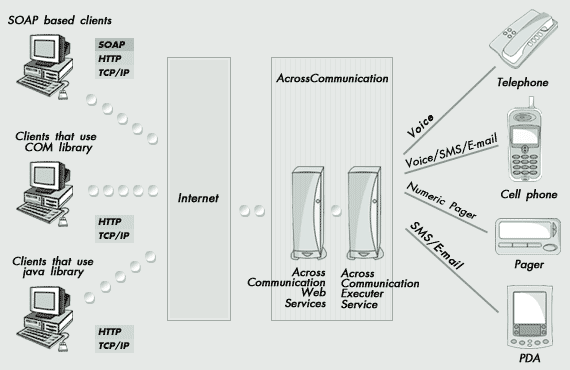 Not sure which approach to take?
Each approach has its own pros and cons. The main benefits of accessing our service using native SOAP are:
The protocol is public and well described;
Your applications can be written in any program language and under any operation system that supports SOAP.
.NET
It is fairly simple to write SOAP based clients with .NET. You require only specify a path to WSDL file for remote class and Visual Studio automatically will create a proxy for you. This proxy can be used as local object that has the same methods as SOAP object. Running methods of this proxy you will run remote methods of our SOAP object. Click link below to see examples how to create simple SOAP based .NET clients:
Java
To utilize Across Communications service from Java applications you can use Java TM Web Services Developer Pack. It contains tools and libraries for creating SOAP applications. Click here to see how to create simple SOAP based java clients.